Surgical & Medical Programs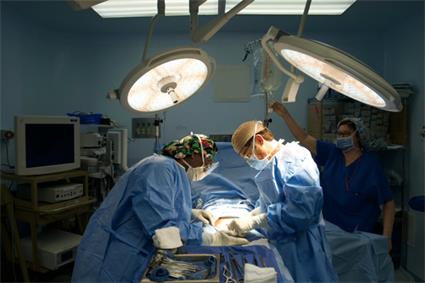 Obras Sociales del Santo Hermano Pedro improves the health and well-being of Guatemalans through its comprehensive programs in Antigua and around the country.
Obras Sociales del Santo Hermano Pedro brings hope and healing to children and adults through its outpatient clinics, prevention programs and surgical center. Hundreds of Guatemalans in need of medical attention pass through the doors of Obras Sociales del Santo Hermano Pedro each day.
Annually, more than 6,000 surgeries are performed and 350,000 patients receive services in outpatient and specialized clinics and laboratories. Obras's staff partners with U.S. surgical teams, volunteers, and Guatemalan medical, physical therapy and nursing students to bring excellent, comprehensive care to its patients.
Surgical Program
Obras Sociales del Santo Hermano Pedro provides more than 6,000 lifesaving surgeries annually. Guatemalan staff work year-round with visiting short-term surgical teams from the U.S., Europe, and Canada in eight state-of-the-art operating rooms to provide general, gynecological, ENT, orthopedic, urologic, plastic and eye surgeries.
Outpatient and Clinical Services
Many Guatemalans lack access to primary and specialty care and the Obras Hermano Pedro Medical Center helps to fill that gap. Services include gynecology, colposcopy, orthopedics, psychology, neurology, internal medicine, genetics, pediatrics, prosthetic and orthotics, audiometry and dermatology.
Cervical Cancer Prevention Program
Although cervical cancer is preventable, it is the most common cause of cancer-related death among Guatemalan women. The program provides weekly screenings in the Obras medical center clinic as well as a mobile clinic to bring screening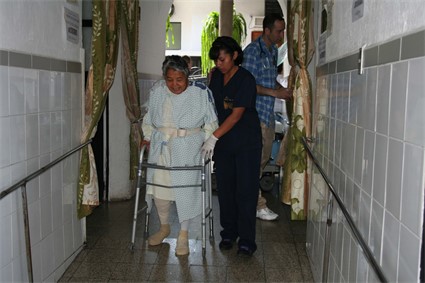 services to more remote villages. Clinicians use the VIA/CRYO approach; visual inspection with acetic acid (VIA) for detection and cryo-therapy treatment for pre-cancerous cervical lesions.
Clinical Support Services
The Laboratory, Diagnostic Center and Pharmacy supports all of Obras needs with technical support, medicine and supplies. The comprehensive pharmacy serves inpatient and outpatient needs, providing low-cost and high quality medication and supplies to patients and the public.
Dental Clinic
The dental clinic specializes in caring for special needs patients, attending to all of the 250 residents, as well as providing preventive care and general dental attention at a very low cost to the public. International volunteer general dentistry teams and oral surgery teams visit periodically to assist the full-time Guatemalan dental staff.